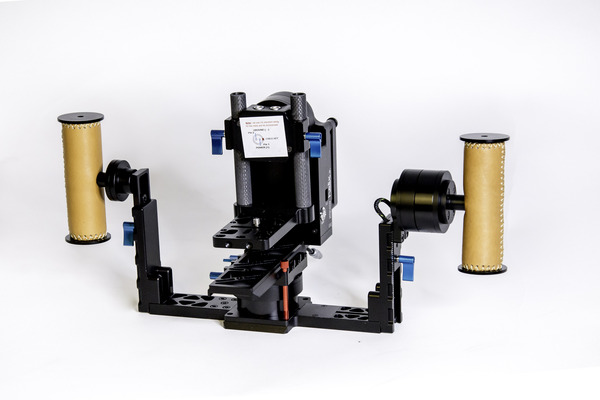 The Helix Jr gimbal from Letus35 is your perfect solution for small to mid-size cameras such as DSLRs or mirrorless.  This rig supports up to a 12 pound payload.  Balance and Calibration are both made easy with the Helix Jr Give your video a boost with fluid and smooth movement. The kit comes with the gimbal, 2 batteries, a mounting plate and weights for balance. Contact us for pricing.
Helix Jr gimbal from Letus35 SPECIFICATIONS:
3-axis stabilization with encoded motors
WiFi and Bluetooth installed
RC 2nd Operator Mode (optional)
Payload up to 8lbs (up to 12lbs if the the setup is less than 8″ long)
Weight:

Aluminum: 5.25lb without battery / 5.75lb with battery
Magnesium: 4.25lb without battery / 4.75lb with battery

Dimension: 16″ (40 cm) span handle to handle
2,600mAh 14.8V Lithimum-ion battery and charger included (0.5lb)
Compatible with:

Mirrorless cameras
DSLR cameras
Mid-size cine cameras (setup must be compact)
Note:
Helix Jr. is wired according to US standards where red pin is Positive (+). Any 3rd-party power accessories must be compatible.