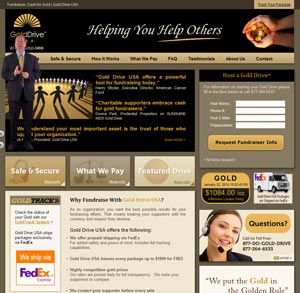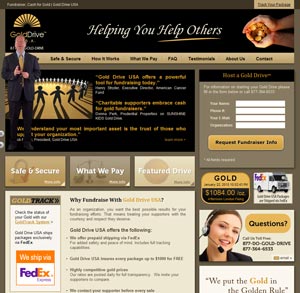 Fundraising can be difficult, especially in trying economic times. One company that realizes this, and is working towards making fundraising easier for charitable organizations is Gold Drive USA. Based in Hillsborough, New Jersey, Gold Drive USA is a company that specializes in helping charitable organizations raise money through a Gold Drive fundraising program. This company partners with organizations who ask their supporters to send broken and unwanted gold products to Gold Drive USA, who in turn compensates them in cash, and pays the organizations twenty percent of the purchase price of the gold sold by their supporters. That is why the American Cancer Fund, the Sunshine Kids Foundation, and many other non-profit organizations have sought out Gold Drive USA to assist in their fundraising needs.
When Gold Drive USA realized the need for a better and more efficient way to reach their customers, they turned to All Pro Media. Given the opportunity to redesign Gold Drive USA's website, the creative team at All Pro Media developed a professional and attractive marketing website that would serve as a system to help the company generate fundraising business in the "cash for gold" market sector. This new website utilizes custom design, search engine optimization (SEO), and most importantly, a custom web based package tracking software.
Primary emphasis was put on creating a solid and trustworthy look for the website so that customers will feel confident and secure when visiting the site. All Pro Media was also careful to employ search engine optimization to increase traffic to the page.
Perhaps the most important and unique feature of the website is the custom software that allows customers to track their packages via the web. Upon customer request, a tracking number is generated that can be used to check the status of their material at any given time. The system also provides Gold Drive USA with the ability to track customers and create reports through a central control panel.
With the aid of this website, organizations such as the American Cancer Fund, the Sunshine Kids Foundation, and the American Heart Association are getting the donations they need to survive, and to serve those suffering from cancer and other life threatening sicknesses. Gold Drive USA is using gold for a greater cause, with the help of All Pro Media.