Deliver your speech with Presidential quality and appearance with our Presidential or Video Teleprompter.
Presidential Teleprompter
(WE SUPPLY A TELEPROMPTER OPERATOR WITH THIS MODEL)
The design makes it very easy to setup. Reversing monitors allow for prompting using text or presentations.  The included Flip-Q Pro software is compatible for PC and Mac.
Two teleprompters are included, along with a distribution amp and 25 foot extension cables. They included monitors offer a variety of inputs including VGA, composite and HDMI.
The lightweight, long life LED backlit display offers a bright image.  They are also High Bright monitors, which means they may be used outside in bright light.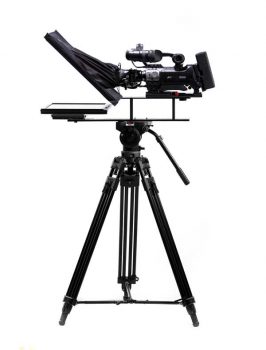 Video Teleprompter
(Camera and Tripod rented separately)
If you're shooting video and recording live audio, the video teleprompter will give you a professional result.
Tripod Attachment, LCD Screen, Glass, Hood, Prompting Software (on USB flash drive), USB Prompter Jog Wheel, Cables, Soft Case.
The video teleprompter requires a Laptop or computer running Windows XP with at least 2 available USB ports and 1 available RGB port.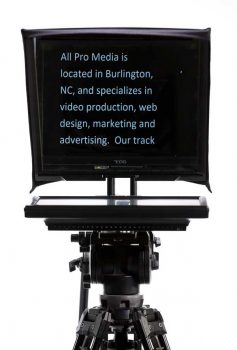 Some of our distinguished clients include:
Michelle Obama, First Lady
Donald Trump, Presidential Candidate
Tim Kaine, US Senator
Warren Greshes, Professional Speaker
Trillium Health Resources
Kidde Fire Safety
Guardian Life Insurance Company
The National Paidaia Center
Accordant Health Resources
Kingsford Charcoal
Brytons Home Improvements
OUR SERVICE AREA INCLUDES BURLINGTON, MEBANE, GRAHAM, ELON, RALEIGH, DURHAM, CARY, GREENVILLE, WILMINGTON, SANFORD, ASHEBORO, GREENSBORO, HIGH POINT, WINSTON-SALEM, KERNERSVILLE, ASHEVILLE AND MANY MORE CITIES IN NORTH CAROLINA.