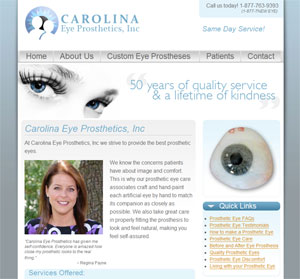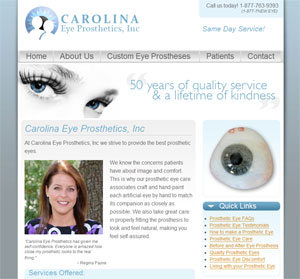 Carolina Eye Prosthetics has created new looks with custom-made artificial eyes for patients all over the Southeast. Now they have a new look of their own from the web design team at All Pro Media.During the process All Pro Media conducted research, reorganized the sites navigation, provided professional photography and designed a dynamic, creative web site to give Carolina Eye Prosthetics a new online presence.
As the project began, All Pro Media did initial research identifying the most used and significant keywords for their services. This step is essential for good search engine optimization (SEO) and is helpful in increasing online visibility.
Reorganizing information from the site made it easier to read and understand for online viewers.This was further enhanced by new site navigation featuring search engine friendly drop down menus.All of the text is set larger than usual to accommodate the visually impaired.
Part of the redesign effort included a new logo for Carolina Eye Prosthetics which contributed to the overall clean look of the site. New digital photography added important elements including a visual step-by-step overview of the process.
This new site for Carolina Eye Prosthetics is one of many web sites redesigned by All Pro Media. All Pro Media is an integrated media company which helps clients achieve their marketing goals. Our services include video production, advertising, graphic and web site design for sales, marketing, training, orientation, commercials, infomercials and live events.
For more information about services provided by All Pro Media contact Alan Kirby at All Pro Media at (336)229-7700 or e-mail us at www.allpromedia.com/contact.html.
For more information about services provided by Carolina Eye Prosthetics call 1-877-763-9393 or visit their website at www.carolinaeyeprostheticsinc.com.