No matter how much time and research you put in, buying a new camera is sort of a gamble. Black Magic Design (BMD) to be specific. Until you use it in the field just like your other models, there is no way to know for sure if it fits your workflow. But in my experience, there is an exception. In this tech world  roulette game, you can always bet on black…
I can already hear the exacerbations and sighs from other filmmakers. A lot of my colleagues look at BMD cameras with disdain or at least uncertainty because of their price and lower profile popularity within our industry. Their knowledge of how well BMD cameras work isn't understood because they most likely have never used one.
Fellow YouTubers call the Black Magic PCC 4K a toy and not a serious camera. It doesn't have a full size XLR port (it has a mini), the autofocus is contrast based and inconsistent and it's small like a DSLR or mirrorless camera system. Despite all of this, there are MANY of us who love it and boast that it is better than most cameras, period.
While I am not including high end models from Arri, Panavision and some of the RED line, I am blanketing the rest for this article. Because it is better, and you need to understand that. Now, let's talk about the Black Magic PCC 4K.
4K & Codecs
So, for sub $1500 the Black Magic Pocket Cinema Camera 4K gives you true 4K RAW up to 12-bit color at 60P. Yes, you read that correctly. If you truly understand those words then you grasp how insane it is to have that kind of RAW capabilities with such a modest price point. You can also go up to 120P in Full HD before a crop factor comes into play.
The Codec options range between Pro Res offerings and Black magic RAW (BRAW). Pro Res 422 HQ, Quicktime, LT and Proxy are on one side, and BRAW Constant Bitrate 3:1, 5:1, 8:1, 12:1 & Constant Quality Q0 and Q5 are on the other. The difference between 3:1 and 12:1 in terms of size is quite large, but in a conversation about quality, the separation is almost indistinguishable.
BMD has been in the software game for a long time and has been integrating their hardware platforms to work optimally in tandem. BRAW should be used as the primary codec on your BMPCC 4K and only be edited in DaVinci Resolve. Their proprietary workflow is the best for maximum quality and the results will blow you away.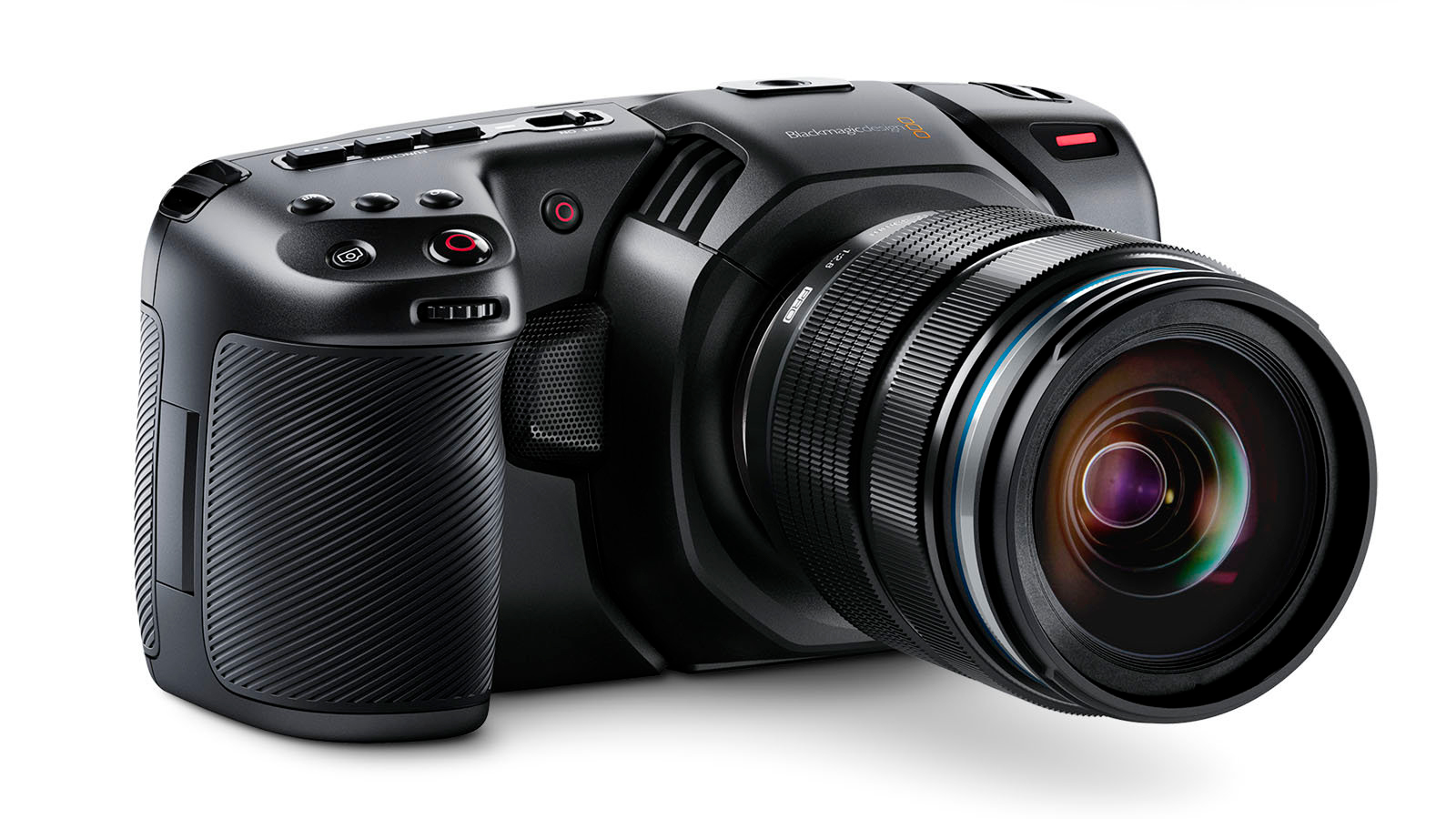 Sensor Size & Adapters
The BMPCC 4K is a MFT sized sensor. For a cinema camera, that is small by comparison to the rest and there are common problems associated with these sensors.
Low light is one of them. Smaller sensors tend to let in less light and make lower light scenarios difficult. The BMPCC 4K has absolutely no problem in low-light. In fact, it's remarkable in those conditions.
The native ISOs listed are 400 and 3200, although, there is a catch – light is expanded in 1/3 stop increments instead of ½ stop increments thereby retaining more quality control over the image.
This means that any ISO on the BMPCC 4K is basically native which makes it a low light beast. In my experience though, I do try to keep the ISO at one of those 2 because the results do look better—but the differences are minimal.
Even without an adapter, this thing does great in dark areas, but many of us opted to get an adapter/speed booster for obvious reasons. The best choice is also a no-brainer in the industry since they have a virtual monopoly on speed boosters and adapters. The Metabones T Speed Booster XL 0.64x Adapter is collectively received to the best for this camera.
There is a 0.71x version, but apparently this one is not as good. I chose the Viltrox EF-M2 and I am mixed about it. The results are great but there are also limitations that I will skip for this article. So, I suggest the Metabones version as well.
LCD Screen
The LCD screen is huge and bright. At 5 inches, it's size will surprise you especially when you pick up another camera right afterwards. It looks more like a field monitor and you'll love it. There are also pre-loaded LUTs available so you can view your footage as it will be, and you also have the option to load your own. It's aspects like this that make it a true cinema camera.
It's a touch screen as well, and all of the function indicators around the edges are touchable. This makes making changes mid-recording so easy. The entire menu system in general is rather effortless to navigate, so I'll discuss that now.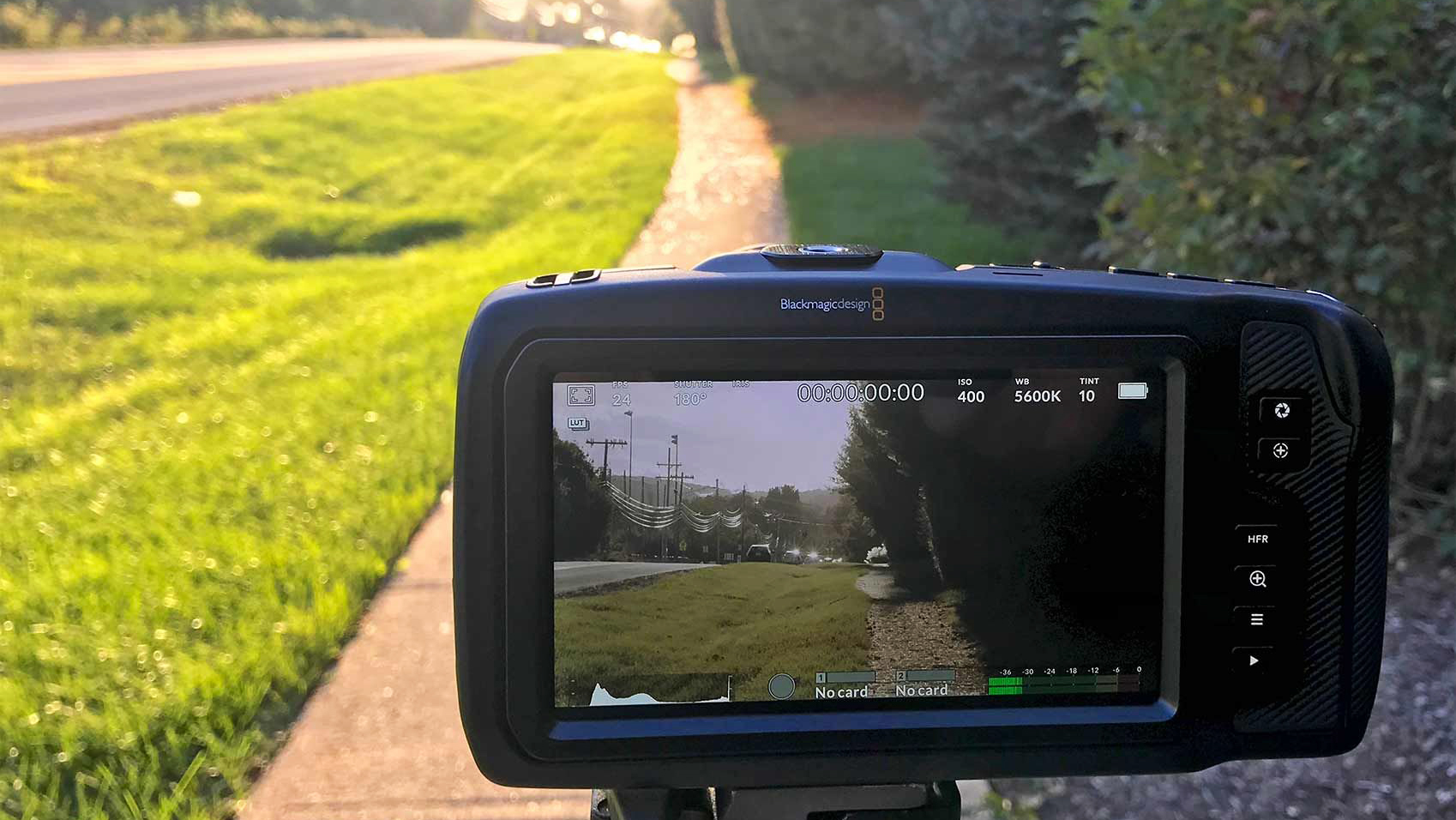 Menu
The menu is simple and clear. The tabs aren't mysteries but point to obvious functions. Each page lays out the options nicely and changing anything is as simple as tapping the screen. The buttons on the camera are also specific to making your life easier.
There are also 3 custom function buttons on the top of the body. This is the easiest camera to work with that I have ever used and by far the simplest to make changes.
Audio
On camera audio from the BMPCC 4K is recorded with not one but two mics positioned to the right and left of the lens mount. I have seen tests done recently indicating that in-body mics on cameras are now better than most attached on-camera shotguns like the Rode. I tend to agree when using this camera.
Mics can be used with 2 different jacks. There is a 3.5mm and a mini-XLR port. The min-XLR port needs a cable adapter that is easy to find and also inexpensive. Both are reliable and the ports are solid.
Depending on your set-up the audio cables and all cables for that matter can be secured to a cage or cheese plate. Small Rig and Tilta make the best cages as far as my experience, and a cage will also provide more protection for your camera body.
Build Quality & Design
It's heavier than you think but also light because it's supposed to be. You get the power of a high-end cinema camera in a small frame. The build quality is good and it doesn't seem like a cheap toy. It doesn't feel rugged like a Nikon, but sturdy enough.
The most important thing you need at first if you use a gimbal is a cheese plate or cage so you can off-set the bottom mount. The weight is off-center and needs to be corrected before balancing.
Auto-Focus
Cinematic quality also means cinematic limitations. Cinema cameras do not autofocus so neither does this one; not well anyway. This is perhaps the biggest bone of contention aside from the short battery life.
The AF is contrast based as I wrote before, which means it's behind when compared to Sony or Canon. Contrast based AF just isn't as reliable as phase detection or AI, so you will want to manual focus most of the time.
There is a touch screen focusing function now, so that does make the AF a bit better to use. In low-light though, you will always want to use manual focus. And considering the battery life isn't great, manual focusing lenses tend to make sense.
Battery Life
The batteries are LP-E6 that Canon has used for many years. They are cheap to buy but don't last long. Also, the life indicator isn't clear. It reads in volts and not percentages, so, you just need to pay attention. Though, the BMPCC 4K will log your current clip if you are recording before it dies.
I use a few different options for power. The LP-E6 batteries keep me light but definitely need to be changed out often. I also use Sony NP F960 batteries with a special DC cable and attach the battery via a bracket on top of the camera.
And lastly, I have a cable that will run power from the Ronin-S if I am using it. In short, there are many workarounds for the low battery performance but it depends on the shooter and his or her needs.
Closing Thoughts
It's a serious camera that happens to come in a smaller size at a modest cost. The quality is indisputable and the drawbacks are minimal. Most of the downsides come as a result of using it as a commercial rig instead of a film camera. When you are shooting a film, AF isn't important and your camera moves are highly calculated.
The BMPCC 4K is a real-deal cinema camera and it can provide amazing results if you give it a chance. Like I wrote before, buying a camera is always a gamble to a degree, but a lot less if you know how to play the game.
Brass tacks:  For the cost and quality offered, this camera probably beats any other model within a twenty-thousand-dollar price point. You roll the dice.  😉